Jacques Bilodeau

Biography - Jacques Bilodeau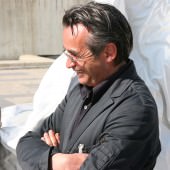 Jacques Bilodeau was born in Garthby, Quebec, in 1951. He works and lives in Montreal.
Jacques Bilodeau's artworks have been presented nationally and internationally in galleries, art centers, and architectural centers, including Joyce Yahouda Gallery (Montreal), Centre Saidye Bronfman (Montreal), Arch 2 Gallery (Winnipeg);  in biennales including Le Havre Contemporary Art Biennale (France, 2006), Artefact Montreal Urban Sculptures (Montreal, 2007), Trafic Art Biennale (Saguenay, 2010); in contemporary art fairs including Gladstone Hotel's Annual Alternative Design Event (Toronto, 2008), Toronto Art Fair (Toronto, 2009), and International Design Show (Toronto, 2010).
Jacques Bilodeau's most notable architectural project include Studio Clark (Montreal, 1982-85), Carillon Residence (Montreal, 1986-90), Poitevin Studio (Montreal, 1999), Chateaubriand Residence (Montreal, 2005-2006), Cormier Residence (Montreal, 2003-2013), Studio des Carrières (2000-2016). His public artworks include Un solide, at Champ-de-mars metro station (Montreal, 2015), and Au Grand Dam – a collaborative project with Claude Cormier for the Parc des Rapides (Ville Lachine, 2016).
Jacques Bilodeau is represented by Joyce Yahouda Gallery.