Transformables Phase I

Transformables Phase I
April 17 – May 29, 2004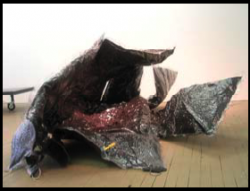 The exhibition Transformables, Phase I presents Jacques Bilodeau's research on body, space and multifunctional habitat. 
In this new series, the artist creates large sculptural-functional forms, each containing thousands of beads. These objects become malleable or rigid depending on the amount of air they contain, allowing to create varied shapes: the body's imprint, partitions or personal enclosures. The second series is composed of various superimposed platforms which glide on several axes. These large, mobile surfaces can transform into seats, work spaces or a sleeping unit. 
Jacques Bilodeau's career is followed by numerous critics in the visual arts (Le Devoir, Voir, Vanguard) and national and international magazines on architecture/design (OBJEKT, City Magazine, Canadian Interior, Azure). The exhibition Transformables, Phase I is presented by the design TV program « d. » and « Visite libre » by ARTV. 
Press release
News
No news at the moment.