Paul Abraham

Biography - Paul Abraham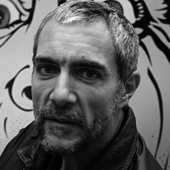 Paul Abraham was born in Switzerland of an Italian father and Swiss mother. He spent his childhood between Geneva, the Swiss Alps and Liguria, in Italy. He moved to England in 1972, finally settling in Provence during his formative years. An insatiable artist and comics enthusiast from a young age, he spent hours at his drawing board. After obtaining a B.A. in Studio Art, he attended the Paris School of Applied Arts.
He completed his education in 1985, at the School of Visual Arts in New York City. As a student of Art Spiegelman's, he contributed to the production of Raw magazine.
Returning to France, he worked on many design, cinema and communications projects, before moving once again, this time to teach Illustration at the École des Beaux Arts in Fort-de-France, Martinique. He then moved to Montreal in 1993, where he has remained.
Paul returned to painting at the beginning of 2000. Inspired by comics, childhood reading and American Westerns, he started to work on his Heroes and Bipeds series. In 2005, he was left paralyzed for a number of months by a bad scuba diving accident. Fortunately, he recovered his right hand dexterity through intensive physiotherapy, allowing him to carry on his work.
He is currently working on three-dimensional projects that integrate stylized comics characters into everyday environments.
Paul Abraham is represented by Joyce Yahouda Gallery