Bernard Gamoy

Biography - Bernard Gamoy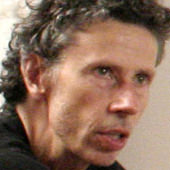 Bernard Gamoy was born in Paris in 1948. He currently lives and works in Montréal.
With the use of selfportraits, Bernard Gamoy questions the representation of the artist and his most recent mise en scène. With humour and distance, he plays with the art of the portrait and the status of the artist by recomposing himself in multiple facets.
Bernard Gamoy has participated in several individual exhibitions, including Canada (Le non-héros, une distance intime, Maison des arts de Laval, 2009).
His work has also been a part of a collective exhibition which promotes drawings and paintings of Québec artists. (Petit et Concis. Musée d'Art de Joliette, Joliette, 2006; Le lieu de l'Être, Musée de Québec, Québec, 1994; Montréal-Boston, exposition itinérante du Conseil de la Peinture du Québec, 1990).
Bernard Gamoy's work is featured in many public collections, notably the Collection Prêt d'oeuvres d'art du Musée National des Beaux-arts du Québec, the Canada Council's Art Bank, the Department of External Affairs in Ottawa and the Lavalin Collection at the Musée d'Art Contemporain de Montreal.