Younes Haloui

Biography - Younes Haloui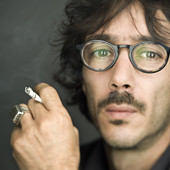 Originally from Morocco, Younes Haloui has lived and worked in Montreal since 2000. He holds diplomas in Studio arts from l'École Supérieure des Beaux Arts à Marseille as well as certificates multimedia creation.
His work is generally characterized by mixed media techniques involving words or phrases in French, English and Arabic. Through his practice, Haloui questions immigration issues, collective and individual history, identity and territory. Haloui makes use of various mediums, including language as a formal instrument in its own right to constitute images both graphic and poetic.
Haloui's work has been presented in numerous galleries throughout France, most notably in Marseille and Annecy. His work was showcased at Joyce Yahouda Gallery in his first solo exhibition in 2006. He has published many texts, for example Crocus for the magazine Moebius – Les monstres in 2003 as well as several French magazines such as Action Poétiques and DOC(K)S.
Younes Haloui's work is represented by Joyce Yahouda Gallery.