Joyce Yahouda Gallery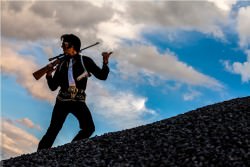 Sérénade: la dernière marche du roi qui refuse de mourir,
VIDEO HD
5min38
2013
©

Jean-Sébastien Veilleux
Thierry Marceau, Jonathan Villeneuve
Serenade: the last march of the King who refuses to die
Video
June 8 – July 16, 2016
Opening: Wednesday, 8 June 2016
4 pm - 6 pm
Serenade tune the frequency of Elvis, born in Tupelo, Mississippi, and disappeared from the world in 1977, if we believe the official version. Is he reincarnated through the has-been suburbs material, industrial parks and shopping malls? On a synthetic grass carpet, borrowed from a mini-golf, an empty oil barrel is attached to a lift rescued from a manufacture. Perforated in the manner of a score for piano, mallets vibrates on the tubes, endlessly repeating a detuned version of Are you lonesome tonight. Serenade is the jukebox of solitudes, fueled by the mystery of Elvis.
-From Daniel Canty text: Simple Machines (2012) 
More information
|
Press release